Commercial Flooring for Airport, Exhibition Halls, Convention Centers and Facilities
Choosing Commercial Flooring for Large Area Facilities
When it comes to flooring for large facilities, you need a team of flooring planners who can taken you through the entire process. You need experts who know flooring back and front, who can recommend the best flooring for your needs. At Choices Flooring, we're here to help you with your commercial flooring project, whether it's for an airport, convention center, expo hall, or other facility.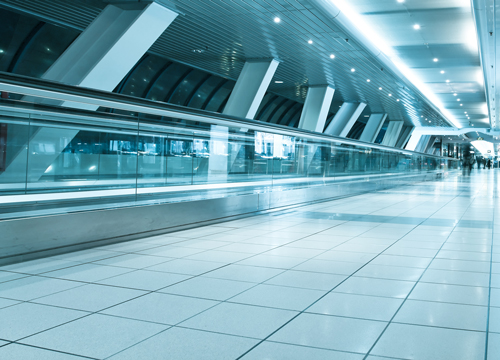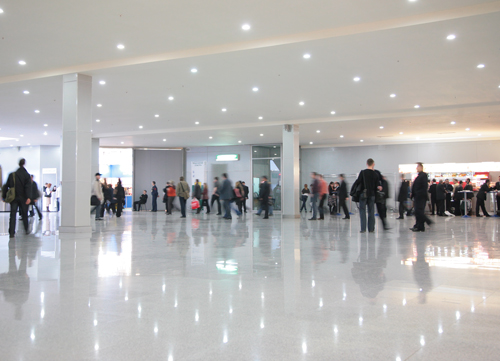 High Traffic Flooring
When it comes to facilities like airports or convention centers, an ultra-durable floor that can withstand high traffic is one of the most important things to look for. With these types of facilities, you can go with something like a laminate tile or a rigid plank. If you want to use carpet, consider a patterned, dark coloured style. Many larger buildings have a mix of different flooring for different areas. For example, high-traffic walkways in an airport might lend themselves to a contemporary tile, while seating areas might look best with a durable carpet, which will add to the atmosphere and style of the room.
Hides Stains and Easy to Clean
Another big factor when deciding on commercial flooring is considering how easy it is to clean and replace. A well-maintained commercial flooring can last for 10 years, but at some point it will start to get worn down and need replacing. At Choices Flooring, our products are easy to install – and our experts will even remove your old flooring and install new flooring for you.
In the meantime, it's important to consider how well your flooring hides stains, and whether it's easy to clean. Generally, dark colours and busy patterns hide stains easily. Of course, flooring choices like commercial vinyl or commercial laminate are ideal for areas that might get dirty often, as it is easy to mop and sweep up messes.
However, that doesn't mean that you should disregard carpet as an option. At Choices Flooring, we carry many carpets that are stain resistant, which makes it easier to clean up any stains or spills. This is especially important in areas where people will be spending a lot of time, such as airport waiting areas or common areas in convention centers and expo halls. When planning flooring for a large commercial project, there are a lot of things to coordinate and keep track of. Even though you may not be using the same flooring throughout the entire campus, you'll want to make sure that the colour palettes are put together. At Choices Flooring, our commercial flooring experts will help you create a cohesive look that fits your university's brand, all while looking great, being practical, and being cost effective.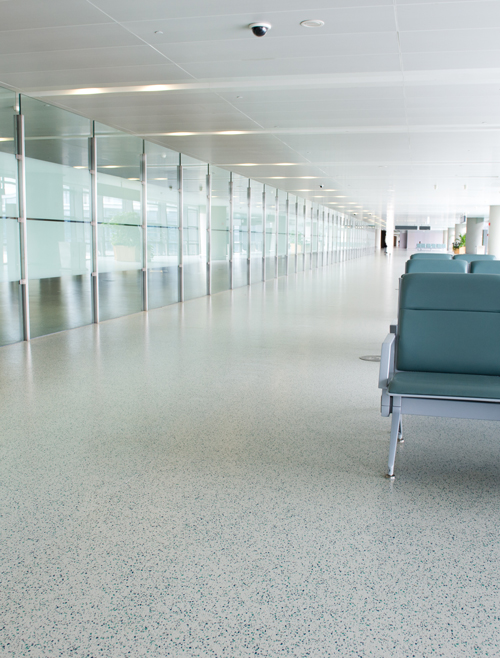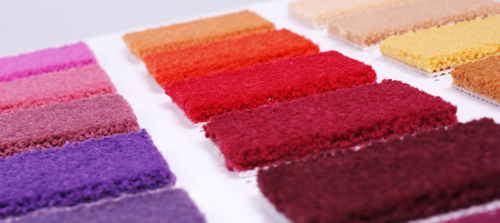 Custom Logos and Designs
Brand is important when it comes to commercial flooring for facilities. If you have a specific or special design, colour scheme, or logo in mind, we will work with you to incorporate it into your flooring plan. We have a variety of colours, patterns, and more for you to choose from in order to make your flooring dream come true.
Work with Choices Flooring on Your Commercial Project
Our experienced commercial flooring team will help you come up with the perfect facilities flooring solution for your needs. When it comes to large-scale projects, we know that it takes a lot of work, which is why our team of experts will work with you from start to finish. Our commercial team has partnered with several flooring brands, including Premium Floors Australia, Dunlop Flooring, and Victoria Carpets.
Stop by one of our 140+ stores around Australia and New Zealand to get started on your commercial flooring project today. We can't wait to see what visions you have in store for your brand!
Find out how we can help you with your next commercial project!